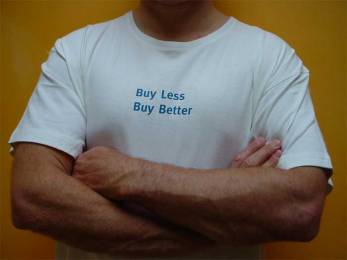 The home, household goods & services
Stain removal meets portability
According to Procter & Gamble, consumer research 'clearly indicated an unmet need for a portable stain solution that is both effective and convenient'. Hence the recent launch of Tide to Go, a stain removal pen to remove food and drink stains on the move. Now you might think that this is another example of a solution in search of a problem, but apparently not. According to (yet more) research, we can all expect to receive six stains on our clothing every two weeks when we're out and about– most commonly from ketchup, coffee or soft drinks. The category-busting product is available in single packs at a price of US $2.99, or, for those really messy eaters out there, in packs of three or five at $6.99 and $8.99 respectively. Given that 15% of meals are eaten in cars in the US, the idea might actually work.

Ref: PR Newswire (US), 7 June 2005. Also see www.tidetogo.com.
Thanks to Wayde Bull for spotting this. Links to portability trend and eating on the move.
Twinkle twinkle little star
If you're getting tired of sticking those day-glo planets and stars on your kids ceiling this idea might be right up your stratosphere. Apparently one of the problems of living in a mega-city like Tokyo is that it's hard to see the night sky due to all the light pollution.
Enter HomeStar, Sega's star-producing machine, which beams 10,000 stars onto your bedroom ceiling. The machine use the same lens as commercial planetariums, and rotates 360 degrees every six minutes to create diural motion – whatever that is. You can even switch on a random shooting star function. Better still, why not combine it with a dream-making machine – also available in Japan.

Ref: Japan Today (Jap) Star-gazing at home. www.japantoday.com
Also see www.segatoys.co.jp/index.html

The house of the future (again)
According to the folks that brought us the barcode, the compact disc and the coating on golf balls, our homes are about to be invaded by biosensors. That's because the home is changing from a place where we eat, sleep and play to a place that protects and monitors our health. Specific predictions include filters to reduce air-borne pollutants (eg, to reduce asthma), appliance-monitoring devices (did you leave that iron on?), water-quality monitoring devices (have terrorists poisoned the water supply?) and various devices (probably in the bathroom) to monitor things like cholesterol and blood pressure.

Ref: Various including Realtor magazine (online) 'In-home innovations; house calls not needed'. For a list of home technology forecasts go to www.battelle.org

Do-it-yourself fashion
Go back half a century and most people made their own clothes. These days most of us don't even darn our own socks – we just throw them away and buy another pair instead. But things are changing – sort of. What started as a grassroots rebellion against global fashion conformity has spawned a new trend variously called 'consumer creativity' or 'fingerprinting'. This is essentially where customers customise brands to reflect their particular interests and obsessions. This was happening 30 years ago, and still is – think of how kids write messages and add logos to their school bags – but now technology is lending a hand. For example, Nike offers its customers the chance to design their own shoes, bags or even golf balls through it's Nike ID website www.nikeid.com. Simply log on, choose from a selection of design elements, pay US $55 and five weeks later your shoes show up in the mail. If you're a Vans man (or girl), you can do much the same thing at www.vans.com Even Ralph Lauren is jumping on the design-it-yourself bandwagon by allowing customers to design their own t-shirts and bikinis at www.polo.com and Gucci and Armani are doing it too. There's even a company that offers 'personal branding' for crockery and tableware (www.pfz.com). Of course, handing creative control over to your customers can cause problems too. Like when student Jonah Peretti decided he wanted the words 'Sweat shop' stitched into the side of his Nikes. Just do it!

Ref: The Times (UK), 18 June 2005. 'The Next Big Thing – Design-it-yourself fashion', D. Rowan. www.timesonline.com
'Active adult' homes
What's Next in assisted living? In case you're wondering (which you're probably not), the answer could be cruise ships. Apparently a typical cabin only costs US $2,000 more for a 20-year stay than a standard shore-based assisted living facility (20 years stuck on a ship! No wonder people are worried about getting old!). Meanwhile, back on dry land, over-55 housing developments that offer single-level living, peace and quiet and a sense of community are one of the fastest-growing sectors of the house building market in the US. However, the trend is not necessarily going in the direction you'd expect. Some of the developments are in semi-rural and suburban areas but many are in the middle of cities. For example, between 1990 and 2000 the number of 64-75 year olds living in downtown Chicago actually rose by 17%. One of the reasons for this is that elderly people tend to feel trapped in suburbia whereas in cities there is always a lot to keep your brain and body healthy and active. A report by the US think-tank the RAND Corporation last year found that suburbanites spend longer in cars, thus reducing fitness and life expectancy.

Ref: Various including the Journal of the American Geriatrics Society (US); The Republican (US), www.dailyrepublican.com; Newsweek (US) www.newsweek.com; and the Boston Globe (US). www.bostonglobe.com