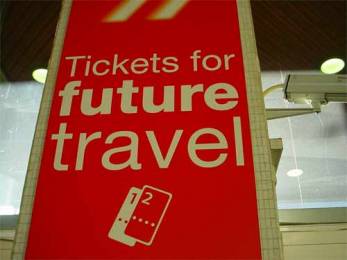 Airlines, hotels, travel & tourism
Hotel rooms of the future
The author William Gibson once said that 'the future is already here, it's just unevenly distributed'. In the case of hotel rooms this is almost certainly true. At Dubai's Burj Al Arab hotel, paranoid guests can check out who's outside their room using a video monitoring system, while in Los Angeles guests at the Hilton Garden Inn can check into rooms with motion detecting lights and biometric safes. On a more useful level, guests at the Langham Palace Hotel in Kowloon can store their laptops in room safes that also charge up your computer. Also at the Langham Palace are phones, which can play radio stations from back home. Over in France, the Sofitel Arc de Triomphe in Paris allows guest to personalise their rooms by changing the lighting. Options include 'business', 'romantic', relaxing' and 'invigorating' (heaven forbid you mix then up!). Back in the US, New York's Dream Hotel offers iPod hire while the Crescent hotel in Beverly Hills goes one step further by offering guests an iPod mini-bar. Other room-based innovations include personal oxygen bottles (OPTUS hotel in Vancouver), an e-Butler service to help you understand all the technology (the Dorchester hotel in London), sleep tight rooms to help fight jet lag (Hilton hotels in the US) and Creativity Suites which have waterproof crayons and grease boards in the shower in case you have an idea while you're washing your hair (Embassy Suite hotels in the US). However, if you think that the future is all high tech, think again. According to Michael Issenberg, Managing Director of Accor Hotels Asia Pacific, guests want hi-tech features but they also want the human touch. So while wireless access beside the pool or in the elevator (Langham Palace Hotel) is something people can do without, great personal service isn't.

Ref: The Australian 4-5 June 2005 (Aus), 'Stay & Play', C. Retschlag. www.theaustralian.com.au
Unexpected consequences of post 9/11 security
One of the consequences of tighter security at airports (particularly in the US, but elsewhere too) is that people are arriving at airports earlier so as not to get caught in long queues for security and screening. Add to this the widespread availability of flat and nearly flat beds in first and business class and you have a catalyst for change at the airport. For example, have you noticed how business travellers are starting to use business lounges more like restaurants? Having eaten, once aboard the aircraft they are then shunning big meals in favour of sleep and light snacks. Another example of change, this time identified by the New York Times, is that tight security is effecting how people dress for travel. One might have expected that post 9/11 people would have dressed up to look respectable (less like a terrorist), but the complete opposite has happened. Indeed, the casualisation of air travel (also influenced by cheap fares admittedly) makes the average suburban soccer mom or mall rat look well dressed. Gone are lace up shoes, belts, metal jewellery, jackets and coats, replaced by t-shirts, track pants and shell suits. Oh, for the return of the golden age of travel and dressing up!

Ref: New York Times (US), 23 June 2005, 'Flight Suits', E. Wilson. www.nytimes.com
Religious tourism
Here's a nice example of how social trends create new business opportunities. In 2005, roughly 50,000 people in the US spent approximately US $175 million on kosher tours. The previous year the figure was around 42,000. So why is there a market and why the growth? You can read trends into almost anything, but the kosher travel market (and its growth) are almost certainly related to the fact that more Jewish women are entering the workforce and they simply don't have time to remove leavened products from their homes in accordance with Passover. If you've got the money, why not let someone else (a hotel, for example) do it for you? Examples of travel companies operating in this area include Leisure Time Tours and Lasko Family Kosher Tours. There's even kosher clubbing in Miami if you're interested.

Ref: The Economist (UK), 7 May 2005. 'Kosher tours – Moses never had it so good'. www.economist.com
Holidays that help
According to the World Tourism Organisation, cultural holidays are the fastest-growing sector of the tourism market. Part of this sector are what we'd call 'holidays that help' (or perhaps 'reality travel') – vacations that combine interesting and sometimes exotic locations with making a difference to a local community or landscape. Examples of travel firms offering such holidays include Earthwatch (UK), who run trips where volunteers can help scientists to track endangered species, and Biosphere Expeditions (UK), a non-profit conservation organisation through which you can study Cheetahs in Namibia or Arabian Leopards. Other vacations that offer a vision in place of a suntan include Peregrine Adventures (Aus) and Australian Volunteers and Intrepid Travel Tours (Aus). And it's not all adventures in far-flung places either. A growing number of operators are teaming up with local charities to make a difference at a local level. For example, World Expeditions (who run Community Project Travel) have teamed up with Mission Australia to provide a range of local initiatives in Australia.
Ref: The Australian (Aus) 16-17 July 2005, 'Vacations with a vision', J. Gauci. www.theaustralian.com.au