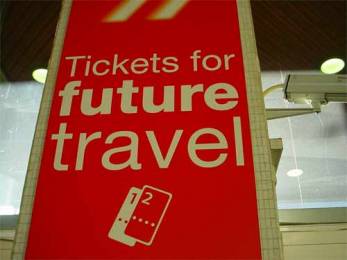 Airlines, hotels, travel & tourism
Future aircraft safety (the computer says no)
Unless privacy campaigners have their way new futuristic aircraft could be in the skies within 10 years. A project called Security of Aircraft in the Future European Environment (SAFE) is being funded to the tune of US $50 million and the end result could be terrorist-safe planes - or at least that's the theory. Passengers will be greeted as they enter the plane by the usual steward and stewardess but also by an electronic nose that can sniff for traces of bomb making chemicals or other dangerous materials. Once passengers are sitting down, microphones built into seats will monitor passenger conversations for the use of suspicious words while miniature cameras will analyse their faces for signs of anxiety or stress. The cockpit will be protected by fingerprint access and if a plane is successfully high jacked a computer will automatically divert the plane away from sensitive targets. The technology to produce this plane is being developed in eleven classified European laboratories plus one in Israel. The technology will almost certainly be too expensive to retro-fit into existing aircraft but may appear in new jets by 2017 or thereabouts. Of course there is a big problem with all this. This $50 million bet is based upon the thought that since 9/11 was an aircraft based attack there is a high probability that future attacks will be carried out in a similar manner. But what if they're not? What if terrorists simply switch to another form of transport? What if the next big attack is against a ship or a tunnel for example? I'm sure somewhere, somewhere, is investing time and money in this too - or at least I hope they are.
Ref: Washington Post (US) 16 January 2007 ' Europe hopes to thwart terrorism with a high-tech aircraft that snoops', M. Moore. www.washingtonpost.com
Source integrity: *****
2007 travel trends (part 1)
According to Hospitality Net the ten trends to watch in 2007 are as follows:
1. Demand for business travel will slow down relative to leisure travel as companies seek to reduce costs and experiment with virtual meetings and other electronic means of communication as an alternative to face-to-face meetings.
2. Family travel (adults plus kids or extended families) will grow as a reaction to adult work/life imbalance issues but also as the importance of family grows in relation to general anxiety and uncertainty.
3. Fares and rates will increase almost universally as suppliers try to pass on increased operating costs but also as a reaction to increased demand and limited supply.
4. The Internet will continue to be an important factor in relation to travel planning and booking but its influence will slow.
5. Pricing will become more transparent as customers become more adept at rate comparison using sites like kayak.com and qixo.com.
6. New lifestyle and budget boutique hotel brands like Nylo, Hotel QT and Aloft will continue to attract media attention and gain word of mouth popularity amongst the new generation of travellers (and older travellers that would like to be seen as younger and hipper than they really are).
7. Inclusive pricing (e.g. hotels that include a bed, breakfast and an internet connection) will grow in both leisure and business travel.
8. The spa and relaxation segment will continue to grow as lives become busier and more stressful.
9. There will be increased demand for Cruise ship holidays as ageing demographics in regions such as the US, Europe, China and Japan collide head on with new ships and services.
10. Travel companies will shift away from .com domains to .travel domains.
Ref: Hospitality Net (US) 15 January 2007, Ten travel trends to watch in 2007',
P. Yesawich. www.hospitalitynet.org
Source integrity: ***
Top 10 hospitality industry trends (part 2)
Another list of travel industry trends, this time courtesy of Ernst & Young in the US:
1. There will be general stability within the industry with supply and demand in balance (a contradiction to point 3 in the previous list perhaps?).
2. The luxury hotel sector will continue to enjoy strong growth with no visible sign of a decline in the luxury customer demographic.
3. Construction costs will continue to increase, which may be a spur for mixed-use developments or the use of more creative financing strategies.
4. Over the past couple of years fixed costs such as energy, insurance and labour have soared. Automation (e.g. Internet based booking and check-in/out) has had some impact on costs but there will still be opportunities for cost reduction.
5. There will continue to be a massive influx of capital into the hotel sector and this capital will become increasingly global in its origins.
6. New passport rules and costs in the US may dampen demand for foreign travel and may lead to a surge in demand for local and domestic alternatives.
7. ROI on hotel investments will become clearer in 2007.
8. Private equity - the largest source of funding for hotel acquisitions during 2006 - will continue to make its presence felt in the sector, however exit strategies remain unclear.
9. The condo hotel craze will calm down in the US but continue to grow in other regions such as the Caribbean, Mexico and the Middle East.
10. The hotel market will become an engine for economic growth in many areas (My prediction: The Cape Verde Islands).
Ref: Hotel & Motel Management (US) 15 February 2007, 'Ernst & Young identifies 10 top hospitality industry trends. www.hotelmotel.com www.ey.com/us/realestate
Source integrity: ****
2007 travel trends (part 3)
Can you stand another list? OK, here we go then...
1. Women have day-spas but what have men got? The answer could be 'Man-cations' - these are mini-bonding vacations for men. It could be a weekend of golf or seven days drinking too much down Mexico way. Of course no real man will use the term man-cation so expect to see some other clever and not so clever phrases appear. There is already a web site - mancations.com - and hotel chains like Personality Hotels in San Francisco are responding to the fad by putting extra cold beer in the mini-fridge.
2. Medical tourism. I've written about this before (under well-being) so it's nice to see this on this list. Medical tourism is essentially an individual response to the globalisation of medical treatments. In countries such as the US and Britain it is also a response to long waiting lists and the skyrocketing cost of medical treatment and insurance. These days if you need life saving surgery or a new set of teeth just hop on a plane to somewhere like India or Costa Rica and have the treatment done in half the time at half the cost. You can even extend you trip by a few days to add to your tan.
3. Spa & sleep holidays. We are becoming more stressed and sleep deprived so one response is a sleep holiday. However, simply lying on a beach is no longer enough for some people - they need help! Hence the rise of sleep resorts and stay and sleep clinics like Canyon Ranch in Arizona where guest have access to experts on sleep apnoea and insomnia. Will sleep programs be the new diets? I'll sleep on it and let you know.
4. Volunteer travel. If you want to feel good one way is to go to the gym or eat less.A better, way is to help others. US based meaningfultravel.com sends 'guests' away to one of 500 projects in 23 countries to do just that. Links with the search for meaning, spiritualism and the growth of 'experiences'.
Ref: Mercury News (US) 7 January 2007, '2007 travel trends', M. Martinez. www.mercurynews.com See also www.medretreat.com, www.planethospital.com
www.unitedplanet.org www.globalvolunteers.org
Source integrity: **
And finally...
Expect hotels to come under increasing fire for their use (and mis-use) of energy and resources - especially water in some regions. The carbon emission debate has extended to airlines over the last few months but hotels still remain relatively untouched. In Australia AAA Tourism has already created a green star rating system for hotels and I'd expect the idea to move into planning and building regulations too.
Ref: Australian Financial Review (Aus) 25-28 January 2007, 'Hotels can still let it flow', M. Dunckley. www.afr.com
Search words: hotels, energy, water