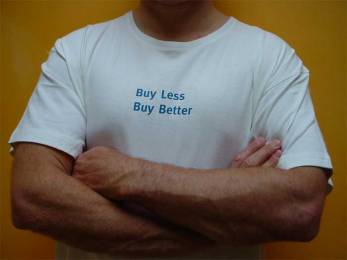 The home, household goods & services
Why Britain is the worst place for a child
Every parent wants to know that their child is happy. But it seems that UK parents go about it in a very different way from parents in Spain or Sweden. According to a recently published Unicef study, Britain is at the bottom of the league table of 21 developed countries. The reason for that is their children receive toys and designer clothes when what they really want is their parents' time.
The argument goes that parents in the UK are so strapped for cash and time that they placate their children with consumer items. This is very different from Spain, where family life is valued highly, and in Sweden, which enjoys free childcare and flexible working hours. Materialism in those countries is much less of a force than in the UK, where it seems to dominate so completely that, author Dr Agnes Nairn claims parents are: "locked into a system of consumption which they knew was pointless but found hard to resist".
It was the case across all social classes that families in Britain were less likely to eat, play games or just spend time together. Many children are left alone in their rooms to watch TV or play computer games. Yet children say they want to spend time with their mums and dads and they like to play games with their friends and families outside. This is in contrast to the current trend for councils to close children's playgrounds.
The difficulty with this report is it makes parents seem responsible for making poor decisions and negatively affecting their children's wellbeing. It also confirms the growing trend for governments to demonise parents and their parenting in an attempt to right social wrongs through "parenting science". (See: It's the parents' fault, below). More broadly, it highlights just how strong consumer brands have become in people's minds and how shopping has become the dominant therapy for stressed working parents in the UK.
Ref: The Daily Telegraph (UK), 14 September 2011, British family life in crisis. J Bingham. www.telegraph.co.uk
The Observer (UK), 18 September 2011, Does materialism dominate family life in Britain? S Manzoor and M Frostrup. www.observer.co.uk
Source integrity: ****
Search words: consumerism, parents, children, Unicef, advertising, work, time, riots, welfare, jobless, bills, computer games, Sunday, capitalism, shopping
Trend tags:
(www.unicef.org.uk).
It's the parents' fault
Any parent or prospective parent is bombarded with advice from the moment of conception or even when thinking about having a child. This ranges from correct behaviour through pregnancy, to vaccination at birth, to supplying children with educative stimuli. This creates a kind of paranoia. But the paranoia just became worse because now neuroscience is being used to justify early intervention into family life.
It is claimed that the brains of children are moulded by their parenting in the early years, so anti-social behaviour can become "hardwired" into them. This is used as justification for early intervention, to save the social system money. The early intervention model and use of neuroscience in parenting science was recently challenged at a conference, Monitoring Parents: Science, evidence, experts and the new parenting culture at University of Kent. Academics found much of the so-called research rested on a limited number of studies with little relevance to today, such as Romanian orphans. They also noted the tendency for children to become the "property" of the community, rather than belonging to their parents. On the face of it, communal parenting does not sound so bad – if it were true. It looks more like the community wagging its disapproving finger.
The latest piece of research (just begun) alarmingly suggests that high-achievers in science, engineering, mathematics and other system-based fields, are more likely to have autistic children. If both parents are in system-based roles, the chance is even greater. Imagine the pressure on these parents not to have a child!
Perhaps the saddest paradox of modern parenting is that, just when both parents are working or overworked, they are being urged to parent intensively as if they had all day to do it. Just when outside pressures are greatest on them, parents are being told they're not very good at it. We believe the rise of parenting science and parenting experts is pernicious because it creates paranoia, particularly among mothers because they are the dominant caregivers. It will be interesting to see how today's children react to this and what kinds of parents they go on to become – if they dare. Perhaps this is why so many relatively affluent 20-30 year old couples don't want to be parents.
Ref: The Daily Mail (UK), 21 November 2011, Are high-achieving parents who met at work behind rise in autistic children? T Cohen. www.dailymail.co.uk
Spiked online (UK), 19 September 2011, Parents should rise up against this neurotrash. J Bristow. www.spiked-online.com
Source integrity: ***
Search words: autism, science, engineering, mathematics, systems, government intervention, family life, neuroscience, biology, social policy,
Trend tags:
(Monitoring Parents: Science, evidence, experts and the new parenting culture, University of Kent, 13-14 September 2011, https://blogs.kent.ac.uk)
Green houses for poor neighbourhoods
It often seems as if the rich benefit more from "green" ideas, because they have the extra funds needed to implement them. A new development, in a once badly neglected part of the Bronx in New York, provides low-income housing that is not only green, but encourages healthy living. This is no mean feat, considering the prevalence of obesity and asthma in that area, combined with low access to fresh fruit and vegetables.
The building provides townhouses and units that meet all the standard requirements of green architecture. But its design also uses solar panels on the side of the building and on canopies providing shade for the gardens. This leaves the roofs free for garden space, 3,700 sqm of terrace planted with garden plots and fruit trees.
In fact, Bronx Borough President Ruben Diaz Jr commented: "Let it be known that, where the Bronx once burned, we are building gardens in the sky".
There is a medical clinic on the ground floor, a fitness centre with lovely views, and stairwells have windows to encourage walking rather than taking the lift. The building also uses natural light and cross ventilation to minimise use of air conditioners. One architect notes that a building is not truly green or economical until it has been proven to last a long time without costly intervention. It will be interesting to see whether the people who move in this New York winter will change their behaviour to match the building.
Ref: The Observer (UK), 16 October 2011, A building looks good while also doing good. M Kimmelman. www.observer.co.uk
Source integrity: ****
Search words: housing, New York, healthy, natural light, fitness centre, rooftop terrace, green.
Trend tags:
(www.viaverdenyc.com)
Property guardians take over empty spaces
One of the ironies of modern life is the prevalence of empty homes and buildings while other people crowd into tiny spaces or are completely homeless. The charity, Empty Homes, claims that 900,000 properties in the UK are vacant. In America, the government says there are about 18.7 million vacant homes. Meanwhile, property owners are faced with the possibility that vandals or squatters will take over.
This has given rise to a new kind of tenant: property guardians. These are people who agree to temporarily look after a commercial or residential property, for nothing or a low rent, without the security of a full tenancy. In many cases, commercial building owners are waiting for permission to redevelop, and they prefer to have someone live there rather than pay five times more for a security firm to protect it.
This arrangement tends to suit young people, 25-35, who work in the public or creative sectors and who are willing to forgo secure tenancy for low rent. Special recruiters, such as Ad hoc and Live-in Guardians, have already set up to find the right property guardians. In the future, changes to the law on squatting may reduce the need to find property guardians but, until then, it seems to be good use of neglected space. It's not unlike pop-up galleries or urban gardens in neglected urban areas.
Ref: Financial Times (UK), 24-25 September 2011, To rent and protect. R Warren. www.ft.com
Source integrity: *****
Search words: vandals, squatters, property guardian, vacant building, low rent, security, damage, insurance.
Trend tags:
The end of the home ownership dream?
While many people are faced with the fact they cannot afford to buy a home, renting is becoming more expensive too. With the high level of foreclosures in the US, demands for rentals are high. In Silicon Valley, where an increase in tech jobs is combined with home losses, demand for rentals has pushed prices even higher. This creates a no-win for people who desperately need somewhere to live.
In 36 out of 50 of America's biggest cities, buying a two-bedroom home is cheaper than renting one, according to the real estate search and marketing site Trulia. But prospective buyers, even those who feel well qualified, face very stringent tests on their ability to service their loans.
According to the National Housing Federation in the UK, there were 72.5% people living in owner-occupied homes in 2001 but this will drop to only 63.8% in 2021. By the same year, the majority of people in London (56%) will be renting their homes, compared to 48% last year. Interestingly, in Australia, 20% of home owners (1.65 million "episodes") dropped out of ownership from 2001-09, double the rate for Britain. Just over half moved back into home ownership again.
Meanwhile, Oxford Economics says average house prices in the UK will increase by 21.3% in the next five years, compared to 19.8% in rentals over that period. So it seems unlikely that people who are out of the market now will ever stand a chance of getting into it. It's a sorry prospect for younger people who see home ownership as a right. It's sorry also for aging Boomers who do have an income, yet stand no chance of getting a home loan because they don't have normal paid work.
Ref: The Guardian (UK), 30 August 2011, Home ownership "to fall to mid-80s levels"
. H Mullholland. www.guardian.co.uk
San Jose Mercury News (US), 21 July 2011, Rents going up: More tech jobs, Fewer homeowners. P Carey. www.burbed.com. Inman News, 24 January 2011, Cheaper to buy than to rent in 72% of largest U.S. cities. www.inman.com
Source integrity: Various
Search words: home ownership, rentals, prices, mortgage, credit limits, deposits, demand, supply, foreclosures.
Trend tags: