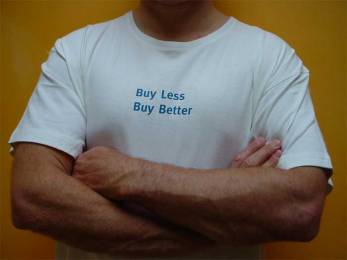 The home, household goods & services
Why vinyl is divine
Just when you thought MP3s had replaced CDs, which replaced vinyl records, vinyl is coming back. There are three good reasons for that. One is that baby boomers want to relive their musical childhood memories in vinyl, and some don't use digital downloads. Two, the younger, digital generation likes the retro, tactile feel of vinyl because it is so different from what they know. Three, true fans want the artists they love in all releases and all formats.
In the US last year, 1.8 million vinyl records were sold, compared to under 1 million in 2007. Several artists have released on vinyl, such as Elvis Costello (in vinyl only, for a few weeks), White Stripes, Metallica, and Australian band, Cog. Meanwhile, the technology is there for people who want both vinyl and digital. Sony and Ion both manufacture USB turntables, that can convert vinyl to digital MP3s for around $A300.
True audiophiles have always said that vinyl has a warmer sound and the ritual of playing a record is more satisfying than listening to digital music. Others say that vinyl records are appealing for their sleeves, as much as their music and people collect them for their, in some cases, iconic artwork. (Sleeveface.com even encourages people to photograph old record sleeves using their bodies to create some kind of illusion.) It appears that old technologies do not die; they just get reinvented. Turntables are coming round again.
Ref: The Sydney Morning Herald, 24-25 January 2009, Just for the record. Bernard Zuel. www.smh.com.au, www.sleeveface.com
Source integrity: ****
Search words: vinyl albums, MP3, CD, album covers, sound quality, sensual, counter-trends
Trend tags: Analogue, physicalisation

Nostalgia for childhood brands

While everyone talks down the economy, marketers are appealing to wealthy baby boomers who are nostalgic for their childhoods. Mattel, for example, is celebrating Barbie's 50th year with a marketing onslaught. This includes high-fashion Barbie dolls at London Fashion Week, adult Barbie clothing on the catwalks at New York Fashion Week, a range of Barbie beauty products, and the opening of House of Barbie, an adult/child concept store in Shanghai, offering spa treatments and six floors of clothes.
Walt Disney and Hello Kitty are on a similar track, promoting the characters we grew up with in new incarnations, such as interiors, fashion, jewellery and footwear. Disney says nearly a quarter of its products are now targeted to adults. Karl Lagerfeld recently recreated himself in the image of a toy bear wearing his usual uniform – now what does that mean?! And people who can afford it are buying Prada toy keyrings. No sign of austerity here, at least among the rich and nostalgic.
Ref: Financial Times, 14-15 February 2009, Adult nostalgia for childhood brands. Lucie Green. www.ft.com
Source integrity: *****
Search words: Barbie, luxury, designer, Walt Disney, Karl Lagerfeld, fashion, jewellery, adults, nostalgia.
Trend tags: Nostalgia

What is community and have we lost it?
Many people share the belief that a sense of community has been lost in our urban, highly mobile, technological age. This contrasts with many examples of modern community in action – different cultures mixing together within suburbs, heavy use of mobile phones or online social networking within groups, local community groups or associations, and the ubiquitous coffee culture. So the question is: have we lost it or not?
A new book, The Future of Community, claims the problem is not lack of community, but the obsession of governments about trying to create it. Faced with anti-social behaviour, ethnic violence, and the threat of terrorism, the government, broadcasters and even companies, are trying to "involve" and "engage" everyone in their warm and fuzzy solutions. Quite often these interactions are no more than another attempt to sell something, whether a reason to vote, or a new product.
An architectural solution is to create more open public spaces, like the glorious piazzas of Italy. One contributor to the book claims that this is more a longing for a different way of life, than the creation of a town square. Trying to create community, as in terraces or high rises, is equally likely to fail, since people don't like to be thrown together – community is a choice. Yet London's East End, romanticised for its salt of the earth community (see Eastenders), has turned into another commercial proposition. It seems that governments and businesses are looking for community on their terms.
Perhaps the biggest manifestation of loss of community is in the fall of union membership, churchgoing, and patriotism (?). Rather than return to any of these – each of which still has its place, perhaps it is time to accept and embrace new kinds of community. Rather than try to create them, let people make their own.
Ref: Spiked online, 27 February 2009, The death of community is greatly exaggerated. Rob Lyons. www.spiked.co.uk
Source integrity: ****
Search words: community, The Future of Community: Reports of a Death Greatly Exaggerated, trust, cooperation, government, connection, engagement, public space, unions, religion.
Trend tags: Local

A green city in the oil-rich desert
It is an appealing proposition – a massive new city that uses every kind of green technology available - serving as an experiment for the rest of the world. Masdar City is being built in Abu Dhabi, in the United Arab Emirates, for a cool $US22 billion. It will use 20% of the energy used by a normal city of that size and, have zero net-emissions, zero-waste, and be profitable. Of course, it will also show the world that the third-largest exporter of oil would like to be known for its expertise in renewable technologies.
The city will generate as much electricity as it uses, convert garbage to energy, and process sewage to make a dry renewable fuel for generating electricity. Wind cones will help to cool the building and provide natural lighting and solar panels will shade the building and generate electricity. Inhabitants will use a personal rapid transit (PRT) system of small vehicles or pods designed to carry four. Heathrow Airport plans to use demonstrations of this system in its new terminal later this year.
Unfortunately for Masdar City, another development in Abu Dhabi, nearly 2,000 hectares bigger, will house a 700-store supermall with continuous air conditioning throughout.Perhaps the question to ask is whether Masdar City can be truly environmentally sustainable if it is not really necessary. How useful will it be for European cities that are not built in the desert? And is it better to manufacture a green city or no city at all?
Ref: Technology Review (US), March/April 2009, A zero-emissions city in the desert. Kevin Bullis. www.technologyreview.com
Source integrity: *****
Search words: renewable technology, electricity, desert, Abu Dhabi, zero-emissions.
Trend tags: Sustainability

Stand up baths

While many of us are urged to take shorter showers to conserve water, manufacturers are trying to find new ways to entice us into the bathroom. One new product is the mist sauna, designed to make the bathroom feel moist and to induce sweating without taxing the body. It uses an abundance of small holes to create a pleasant, fine mist although people who prefer a stronger flow can get that too. Another product, used in some luxury hotels, is the whole body shower, where water shoots out of ten holes on a panel to create a kind of stand-up bath. The theory goes that people are more likely to accept quick showers that feel like a bath. For people who have a hot full-body shower and get cold again as they sit typing at their laptops, Japanese companies have made a heater, a humidifier, and a laptop warmer (bliss) that runs off its USB port. Next, we forecast a coffee maker, tea maker, and even sandwich toaster, that runs off the USB port so we don't have to stop work. (See story in issue 22 about how the Japanese work so hard they don't take their annual holidays).
Ref: The Nikkei Weekly, 29 December 2008, Misty bathing enhances comfort. Tomoyoshi Oshikiri. www.nni.nikkei.co.jp
The Nikkei Weekly, 29 December 2008, USB ports power handy heaters. Anon. www.nni.nikkei.co.jp
Search words: showers, mist sauna, panel showers, heater, lap warmer.
Trend tags: -
Source integrity: ****
The Trend for renting almost anything
One sign that the Japanese are trying to save money is renewed interest in renting rather than buying. In Japan, you can rent designer handbags, musical instruments, and even dogs. Rather than ask why anyone needs a designer handbag, the statistics show that plenty of people do and they will pay from $US20-$50 per week. One bag-rental company says that people used to rent for one-off events like weddings, but 40% of its customers are using the service regularly. You can also rent a dog in Tokyo for $US35 a day although they are currently fully booked on weekends!
According to a small poll late last year, over three quarters of Japanese are unlikely to change their spending on housing or health, but nearly half said they would cut spending on clothes, bags and accessories. While 60% said they would not change food–related spending, the ones that will, cite locally made foods, "safe" and "bargain" foods as a priority. Some 13% of Japanese plan to increase spending on education and self-improvement because they believe a slowdown is a good time to invest in themselves.
I am intrigued by the idea of renting in a slowdown because it may save money in the short term, but usually costs more over a longer period. It also seems luxurious rather than thrifty to be renting dogs and handbags. But there may certainly be a market for short-term rentals of practical things that people feel they can't yet purchase, for example, cars or TVs.
Ref: The Nikkei Weekly, 12 January 2009, Thrifty consumers opt for rentals. Toru Shimoharaguchi. www.nni.nikkei.co.jp.
Source integrity: ****
Search words: thrifty, rentals, handbags, musical instruments, dogs, cars, housing, health, self-improvement.
Trend tags: Renting