2007+: 10 Trends:
Predictions & Provocations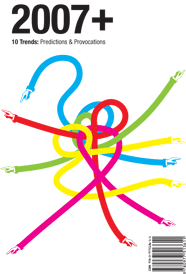 | | |
| --- | --- |
| Published | 2007 by What's Next |
| ISBN | 978-0-9775136-1-1 |
| Author | Richard Watson |
| Title | 2007+: Ten Trends: Predictions & Provocations |
| Price | £45 (Inc worldwide postage)* |
Where are we heading? It's usually easier to make predictions about the distant future than next month or next year because it takes time for patterns to emerge or for innovations to displace existing habits and ideas. For example, hydrogen fuel cells in cars are coming but we don't know precisely when yet.
For this reason, this publication is a look backwards at new things that are already happening (which, up to a point, one can assume will continue to happen and thus influence the future). 2007+ is therefore a collection of ten 'mega-trends' that will shape our lives in 2007 and beyond. It also includes a section on ten ideas that will change the world.
The publication is 66 pages (A4 full colour) and costs GBP £45* (roughly Euro €50, USD $60 or AUD $80) including postage and packing to anywhere in the world.
* Australian orders include Australian GST at 10%