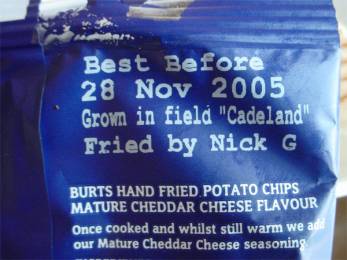 Food & drink
Ethical eating
We've had biodynamics, slow food and organics so what's the next flavour of the month? The answer is ethical eating. The debate about so-called 'food miles' has been around for over a decade but the idea is starting to travel the globe as consumers start to question how food is produced. It may sound ridiculous to talk in terms of carbon footprints for a lettuce but flying a kiwi fruit 10,000 kilometres is hardly sustainable agriculture. The idea is essentially that we should be eating produce that is local, avoiding unnecessary transport costs and CO2 emissions. A UK action group called Sustain recently claimed that if you buy a dinner consisting of meat and three vegetables from a UK supermarket the ingredients will have probably travelled over 40,000 kilometres. This is partly due to the logistics of big supermarket chains that centralise warehousing and distribution, but it's also because consumers have grown used to eating food like baby sweetcorn that is grown out of season in countries like Kenya. Food miles (and seasonality) are also intimately linked with the growth of farmers markets where customers can talk directly to the grower, who in turn can make up to 50% more profit by cutting out the middleman. Local also tastes better in many instances. For example, supermarkets often keep fruit like apples in cold storage for up to six-months, influencing the flavour of the fruit. The ethical trend is also linked to the rise in fair trade products like coffee and chocolate. On a related note, in the UK there is growing evidence that people are going back to growing their own food as a way of controlling how it is produced. According to the four largest seed firms, sales in vegetable seed have exceeded sales of flower seeds for the first time since 1945. There is even a new magazine called Grow Your Own to help people GYO - Grow Your Own.
Ref: The Sun-Herald (Aus), 7 May 2006, 'The ethics of eating', L. Zamiatin www.heraldsun.com.au. The Independent (UK) 13 May 2006, 'Gourmet tastes are feeding the growth of the gastro garden', M. Hickman. www.independent.co.uk
Search words: Organic, ethics, food miles, supermarkets, farmers markets
Food trends for 2006+
According to market research firm Mintel, 156,125 new food, drink, cosmetics, skin and haircare products were launched globally last year. Over 90% of these will fail. So what can we expect to see in the next twelve months? According to Mintel, the answer is brain-enhancing foods (eg, Omga-3 oil infused products), amino-acid foods (including chocolate that aids relaxation), anti-ageing products (eg, new anti-wrinkle creams), anti-tiredness products (eg, face creams again), foods targeted at older people (that are easier to chew and swallow), portion-controlled foods and customised face cream (add your own colour, fragrance or other ingredients).
Ref: The Times (UK), 11 March 2006, 'The Next Big Thing'. www.timesonline.co.uk
Search words: food trends
The contradictory consumer
Much in the same way that the middle market is dying in retail, consumers are increasingly swinging between two seemingly contradictory needs when it comes to eating. On the one hand they are craving indulgence, but then they are repenting soon afterwards. The trend (also known as debit and credit eating or Jekyll and Hyde eating) sees people eating salad one minute and ice cream the next. Alternatively they will binge one week and go to the gym the next. So how can retailers like supermarkets or even airlines tap into both mindsets in a single environment? One way is to use natural ingredients that are both good and bad for you at the same time. Another is simply to acknowledge that this behaviour exists and to give customers the option of both extremes. Making indulgent foods healthy, on the other hand, plays to the needs of nobody.
Ref: USA Today (US), 8 May 2006, 'Marketers cater to cravings and remorse',
B. Horovitz. www.usatoday.com
Search words: polarisation, indulgence, healthy eating
Milking it for all it's worth
In the UK sales of milk have increased for the first time in three decades, thanks partly to the rise of café (coffee) culture and also to the appearance of so-called 'wonder milks'. These milk drinks are essentially functional foods and include products such as Night Time milk (with melatonin to send you to sleep) and Flora Pro Activ milk, which contains added plant sterols to lower the body's cholesterol levels. Organic milk sales are also up 80% year-on-year, largely due to heightened interest in food traceability and nutrition.
Ref: The Times (UK), 11 February 2006, 'Dr Moo's medicine', N. Wyke www.timesonline.co.uk
Search words: food trends, milk
Paradise lost?
In the US, sales of organic foods are growing at between 15-20% per annum and are worth around US $15 billion a year. Wholefoods (the US supermarket chain) is the fastest-growing large retailer in the US with same-store sales growing by 17% per year.The chain now has 181 stores nationwide and a turnover of US$ 5 billion with profits of US$ 1.6 billion (2004). In the UK, Wholefoods has acquired Fresh & Wild, an organic supermarket chain. Partly in response to this threat, Wal-Mart has announced that it is planning to double its range of organic foods while Pepsi, Kellogg and Kraft are rumoured to be developing organic versions of their products. So is this a sign that the hippies were right all along or are we witnessing the death throws of the late capitalist economy? One suspects that it's just marketing. Wholefoods famously limits the salary of its top executives to just 14 times the salary of its average worker but it is rabidly anti-union. It is also an expensive place to shop, which has earned the company the nickname "WholePaycheck.' The company is certainly growing and it sells organic food, but is this necessarily a good thing? Organic doesn't always mean local so the environmental impact of your rocket leaves could be substantial. In some countries organic doesn't even mean 'no pesticides'. In other words, organic is rapidly becoming just another offshoot of the global food business. More bean counters than mung beans.
Ref: The New Yorker (US), 15 May 2006, 'Paradise sold', S. Shapin. New Yorker www.newyorker.com , The Guardian, 13 May 2006, 'Wal-Mart plans huge move into organic food', O.Buckman. www.guardian.co.uk
Search words: organic, supermarkets